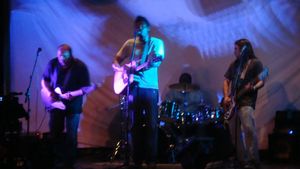 Bio
satchelboogie is a collection of talented musicians who collaborate for your enjoyment at venues around Eastern Long Island, NY, and beyond.  You may have caught them at Billys by the Bay in Greenport, JT's Cafe and JT's on The Bay in Blue Point, CowFish, The Hamlet and Meschutt Beach Hut in Hampton Bays, Eastern Front Brewing Co., East on Main, and Old Mill Inn in Mattituck, Cuddy's in Jamesport and Salt & Sea Bistro in South Jamesport.  If you did, chances are that you found yourself singing along to one of their many fan favorite originals or to a new twist on a classic or contemporary hit.  The sound is infectious, with patrons jumping to their feet to get their boogie on each time they play.
satchelboogie is anchored by singer and rhythm guitarist, Steven Meadors, the originator of the band and author of much of the original music the band plays.  Steven surrounds himself with such amazing artists as Drew Bertran [drums], Phil Bland [lead guitar], Charles Certain [sax], Christie Defeo [drums], Troy Diaz [lead guitar, vocals], Kenny Harris [bass], Rodney Harris [drums], Richard Lanahan [lead guitar, vocals], Charlie Lopresto [sax], Bosco Michne [guitar], Jim Nanos [bass], Alex Sarkis [drums], Michael Schuler [guitar, bass], Heather Wallis [vocals], Michael Vetter [drums] and a host of surprise guest artists, keeping their fans coming back for more. The musicians are skilled masters of improvisation who enjoy playing off each others' strengths which can take any song to a new and exciting place to the delight of those who witness these joyous collaborations.  The artists you see on a particular day may rotate, but the satchelboogie line-up is always so thick with talent that you won't want to miss a single, jam-filled show. 
Speaking of Troy Diaz and Heather Wallis, some of you may not know the two make incredible music with their band Two From Five. Check out their FaceBook page for a link to thier latest outstanding collaberation.